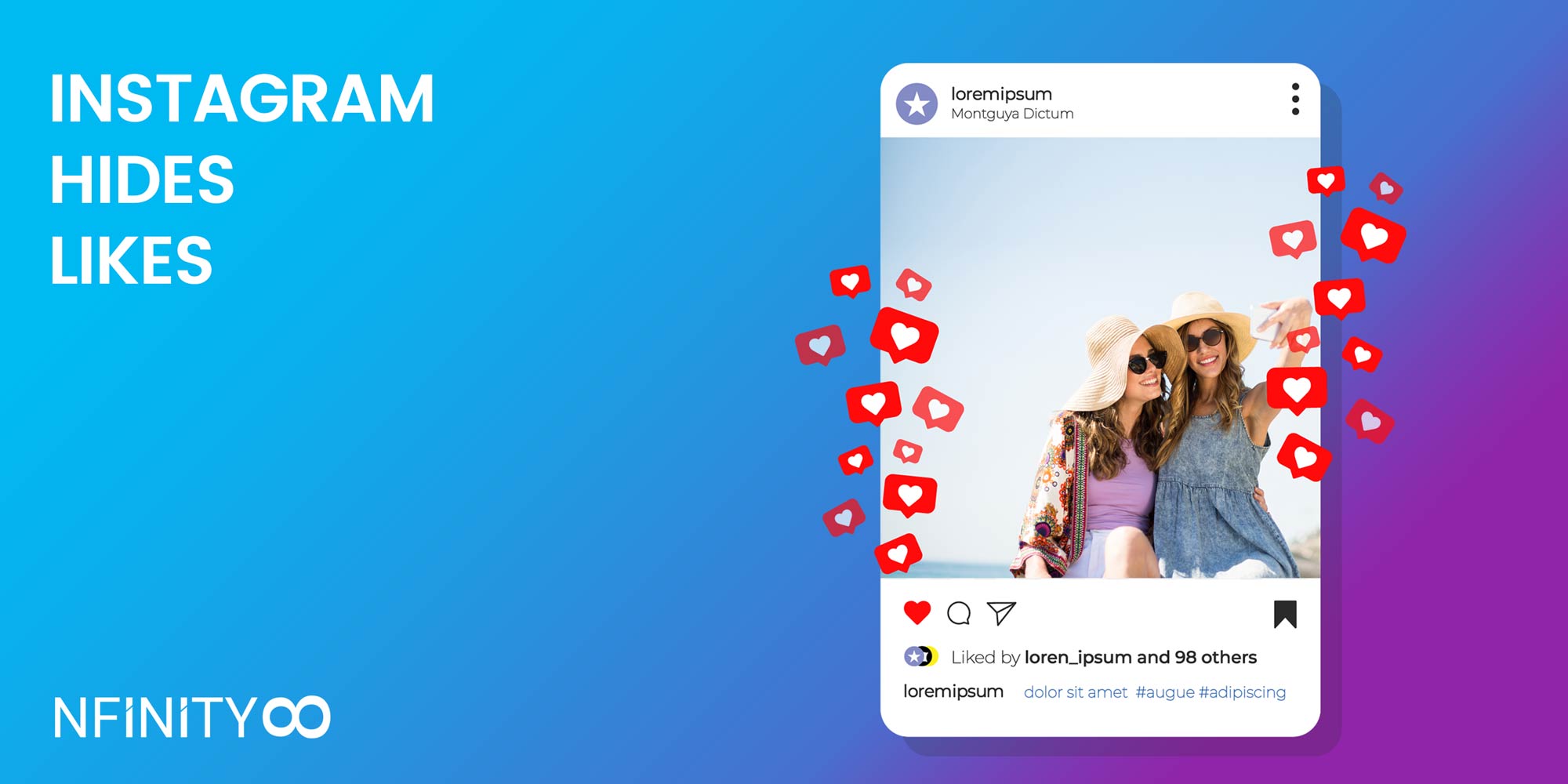 Instagram is one of the hugely grown applications over the past few years and since the Facebook acquisition, Instagram is constantly updating itself and adding new features to stay on top of all the social media applications and one of the big tests that are running currently is hiding the public like counts on the Instagram posts.
Continue reading to find out the reason behind hiding Instagram post likes, how it will look like, and the impact it could have on influencers and businesses:
What is really happening?!
Lately, Instagram has decided to hide the public likes of the post giving the reason, that they want the users to focus more on the quality of the content that is being shared, not just the number of likes. For you as a user, you will still be able to see how many likes your post has received, but your friends won't.
"We want people to be less interested in how many likes a post gets, and focus more on connecting with other people." Said Zuckerberg
For a while now the Canadian Instagram users have been like-free as the test was initially started in Canada, but now the test is expanding across 7 countries; Canada, Australia, Brazil, Ireland, Italy, Japan, and New Zealand.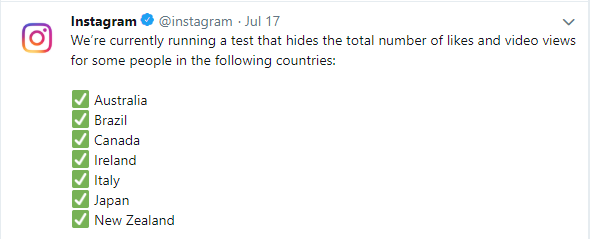 When you come to think about it, it is a good idea to encourage the fans to focus more on the content quality, instead of focusing on the number of likes only.
According to studies, the number of likes is reflecting badly on the mental health of the users, since it drives them to do almost anything for the sake of likes and when the posts aren't performing well, they start to stress out.
As usual, some fans like the idea and some don't, explaining that this update won't affect the content quality in any way and won't stop users from posting nonsense content.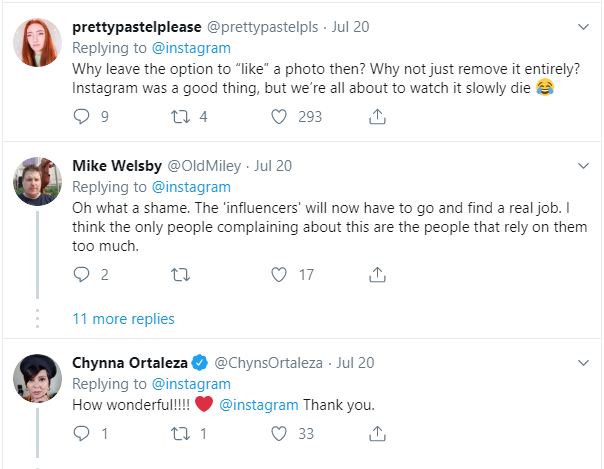 Another reason behind this idea is to reduce the competition on the platform, especially within young users. However, now a lot of young users are considering changing their personal profiles to business profiles to get more insights about the performance of their posts which is raising a high privacy concern now because they share their personal information publicly in the bio.
But how my Instagram will look like?!
When it comes to the user interface of the application, you can say that almost nothing changed, the only thing that you won't be seeing anymore is the likes' count under the post. Here is how it will look like for those who have been selected for the test.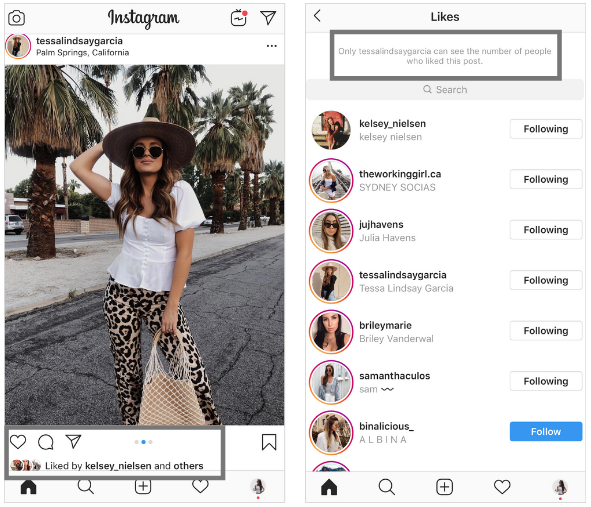 If you have been selected for this test, a banner will pop up on your home feed explaining what is happening and why you can't see the number of likes that the post has received. The only thing that Instagram didn't explain or announce is how the selection of the test works or how big it is which means that anytime this could happen to you.
For you as a user, you will still be able to see how many likes you have received for your post, but it won't appear automatically under the post as before, to be able to see how many likes you have received, you will have to tap "others" under your post to go through to the total number of likes as below: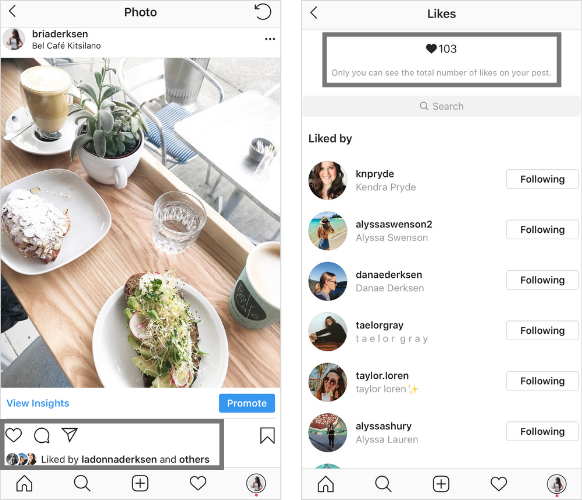 What about influencers and brands?!
If you have a look at Instagram stories, they don't have a metric as well and that didn't stop Instagram users from using it, on the contrary, Instagram stories have gone viral between business owners, normal users, and influencers.
We all know that currently, the influencers marketing is counting on the total number of the likes and followers so the big question now, is how this will affect Instagram influencers?
Some say that with removing the likes, the pressure will be much less on the influencers as no one will be able to see the performance of their posts especially their competitors. But on the other hand, this will give the influencers the luxury of posting anything they like without worrying about how much this will affect the number of their likes and page performance, the sky will be their limit.
However, this might be a struggle for brands to find suitable influencers for them, we all know that the number of followers isn't the most important metric as it used to be. So how will a brand decide if this influencer has a good engagement rate or not? This will likely lead to a drop in the influencer's marketing plan, but will for sure increase the Ads exposure of the brand since all the brands are looking for more online exposure which is a benefit for advertising agencies.
And business?
As for businesses on Instagram, they will have to look at the content from a different perspective, now they will have to dive deep in the content analytics to know what type of content that users actually like and support the business goals instead of just of comparing the number of likes of each post which can be misleading sometimes.
If you are worried about your Instagram likes and don't want that to happen to you, we are here to ensure you that you don't need to worry now unless you are in one of the 7 countries mentioned earlier. It is just a test and it may be applied and may not, it will depend after all on the results of the test and the feedback of the many users who have been tested, it might take more than months to hear anything new about this update again.
So enjoy your likes now as long as it lasts 🙂
We would love to hear more about your opinion regarding this new update. If you are running an Instagram business account and looking for new ways to improve your strategy we will be glad to help, just drop us a message in here.