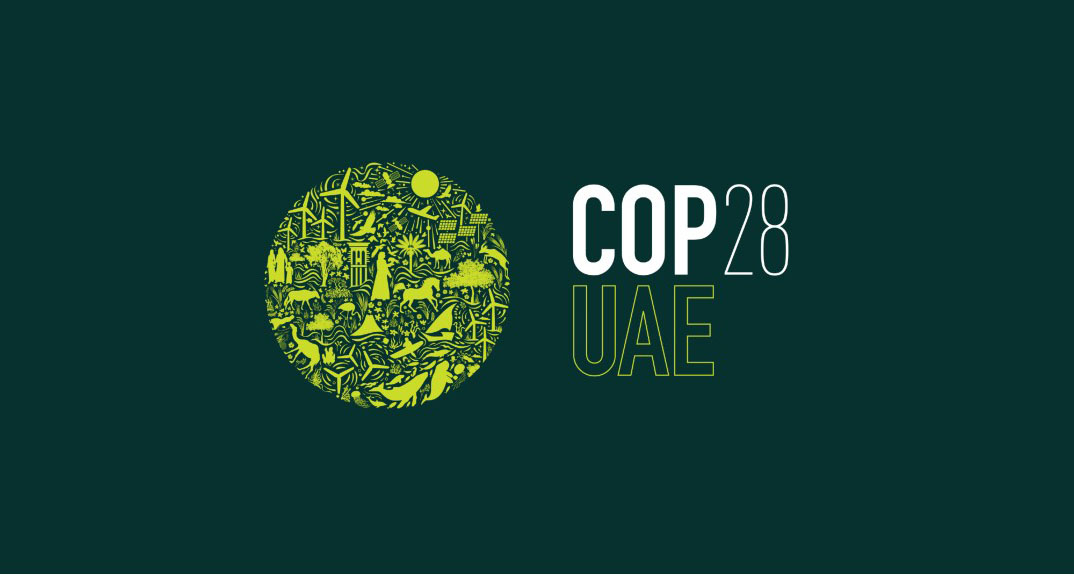 As we approach COP28, we believe that augmenting Climate Knowledge is of prime importance to get everyone involved in shaping a cleaner future for the UAE and all humankind. Let's launch into a trip to the climate space together.
The Essential UNFCCC Secretariat
The UNFCCC secretariat (UN Climate Change) is a United Nations entity formed in 1992 in Rio De Janeiro, as the main framework for international cooperation in combating climate change. A global assembly that amalgamates all worldwide responses and actions into a global synergy of climate action.
For the last 30 years, UNFCCC has been a beehive of climate works that kept on increasing its institutional maturity and complexity until it reached an undeniable level of established architecture and hierarchy. It gained the international confidence it now enjoys as the main framework that aligns all global efforts towards achieving the common climate objectives.
Its comprehensive strive to support the Kyoto Protocol and the Paris Agreement has augmented the scope of climate action into the concepts of increasing resilience and assistance climate programs directed to developing countries. Providing the basis on which all involved parties would play their parts in the global climate action strategy.
What is the Global Stocktake (GST)?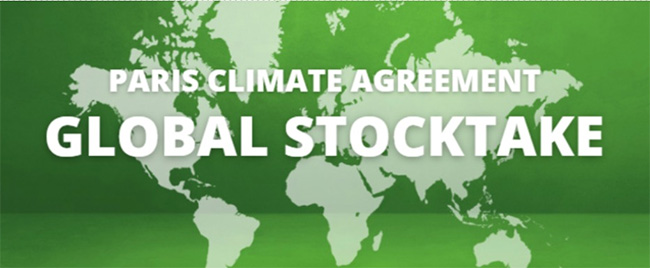 GST, Global Stocktake is a crucial mechanism through which the world aims to ensure the accelerated advancement of collective global climate actions to achieve our common goals.
The primary role of the Global Stocktake is to measure the progress of climate action beyond the national level, as it evaluates the progression the entire world collectively made to achieve the climate goals set and ratified in the Paris Agreement, as well as detecting the gaps which would need to be bridged.
GST assesses global climate action based on the following main aspects:
1- Mitigation
To evaluate the global efforts of greenhouse gas emissions reduction to keep the global temperature rise below 2°C, or in an ideal world below 1.5°C.
2- Adaptation
To measure each country's progress to enhance its resilience and reduce vulnerability to adverse climate impacts.
3- Implementation
To assess means of implementation and the alignment of financial flows, technology transfer and capacity building to climate-resilient development and supporting developing nations to achieve emissions reduction objectives and NDCs.
But this mechanism exceeds the role of assessment, towards the bigger role of providing all concerned parties with the guiding foundation which leads governments and non-state actors towards boosting their climate action plans and Nationally Determined Contributions (NDC), and enhancing international cooperation between all NDCs.
GST is designed to be conducted quinquennially, which means that every five years all signatory countries of the Paris Agreement, need to be informed about their updated NDCs to ensure that the steps each party takes, is an ambitious and effective contribution in the global drive towards conquering climate change. The stocktake will also establish the basis that enables all signatory countries to update and enhance their NDCs due to be done by 2025.
This is the direction that each country's efforts in the world need to be directed towards contributing with the most transformative plans of action across all fields and sectors of their national economies. And now, we will move on to highlighting the two main categories of climate action plans that the UNFCCC framework adopts.
The Impact and Integration of NDCs and NAPs
NDCs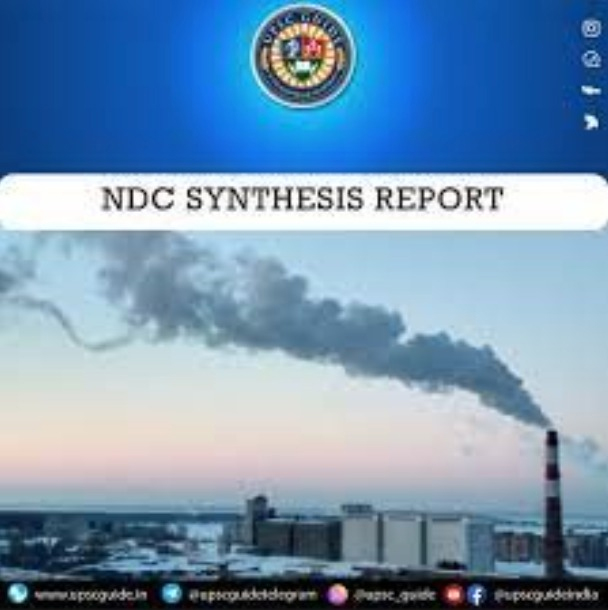 NDC stands for Nationally Determined Contributions, which is the required internal plan of each country that covers all the climate efforts across the sectors of the country's economy in a comprehensive country plan that gets periodically updated, which eventually acts as a clear benchmark to assess and report the country's progress.
Each NDC has to use the most advanced technologies to achieve its climate commitments, define what assistance the country might need to execute the plan and continue to move forward by making each NDC more ambitious than the previously decided one.
Finally, all the countries' NDCs will be assembled as a global report of mitigation policies, programmes and actions. In the UNFCCC secretariat's "NDC Synthesis Report".
The Global Stocktake system creates the groundwork for countries to update and improve their NDCs, which
It is a system of commitments, checks and balances designed to push the boundaries of each country and boost the collaboration and integration of all the global efforts to warrant the best results and elevate our common ambitions to take every measure necessary to conquer the climate change crisis.
But for these objectives to be reached, all concerned parties need to be as transparent as possible. And HE Dr Sultan Bi Ahmed Al Jaber put it best earlier this year when he announced: "We must be brutally honest about the gaps that need to be filled, the root causes and how we got to this place here today,"
NAPs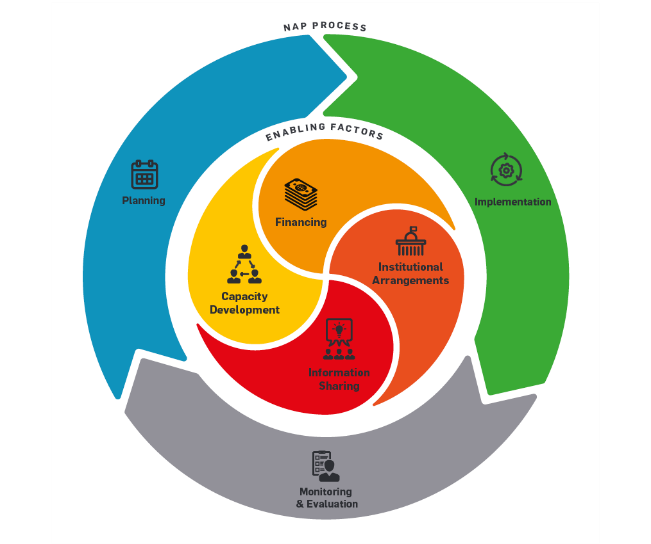 The UNFCCC was very keen on ensuring that whatever plans have been put in the developing countries' NDCs, are receiving adequate support to make it easier for developing countries to adapt their planning with their set NDC and with the efforts of other developing and developed countries.
This is where the importance of National Adaptation Plans (NAP) concept came into the picture since COP16, which was held in Cancun, Mexico. It clearly defines the needs of the Least Developing Countries (LDCs) and ensures that their medium to long-term adaptation needs are fulfilled, with the proper strategies.
It is a process that helps countries look into their current and future climate risks and footprints and detect their gaps and vulnerabilities to eventually adapt these into their climate strategies.
And the UNFCCC Secretariat has put in place the UN4NAPs initiative, which acts as an open channel for all countries to request data, technical information and support from other countries and grants them access to all the global climate expertise on climate action.
These complementary and comprehensive efforts and all the attached local, regional and global initiatives and programs act in unison to advance the climate knowledge base, encourages the local and indigenous communities to take an essential part in their countries' NDPs and NAPs, which leads to increasing the countries' resilience by avoiding the loss and damage that might be caused by the adverse effects of climate change on both land and sea so that we can leave a safer and more sustainable future for our youth. 
Youth crucial role in shaping the planet's future
The future is for our youth, which is why the young men and women in this generation must be a part of the climate decision-making, as they are the ones who will shape that cleaner, greener and better future we all hope and work for.
In light of this, our wise government has chosen 100 youth delegates from around the world to actively participate in efforts to protect our planet's future on the personal, organizational, local and global levels.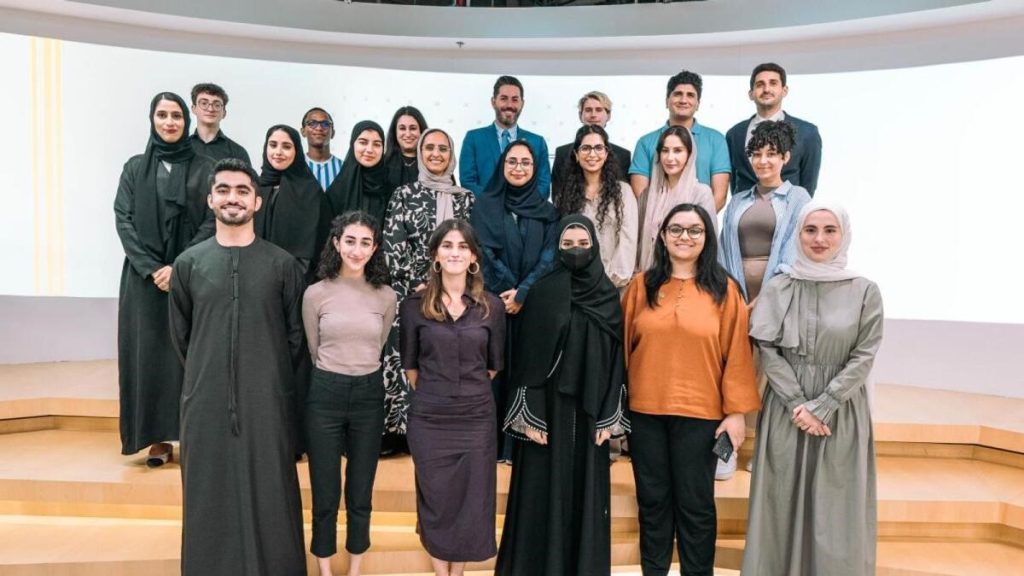 This inspiring decision is designed to enkindle engagement and a sense of responsibility regarding climate-conscious actions, for the youth to be a part of devised climate strategies and to acclimate their careers and lifestyles to the needs of the global movement towards a sustainable life on Earth.
Even on a personal level, actions like opting to use public transportation or switching to electric vehicles instead of fuel-reliant private vehicles, supporting eco-friendly producers and reducing their carbon footprint and waste, going paperless and even vegan diets and improved cooking equipment are profoundly effective personal actions, if they are collectively adopted by enthusiastic young individuals.
As we approach the launch of COP28 in the great Emirate of Dubai, various companies in the UAE are launching initiatives to engage the youth in projects and workshops to develop their knowledge and awareness and practical skills in sustainability, renewable energy, climate advocacy and all green practices.
The most prominent example of this youth-engaging approach in the Youth 4 Sustainability (Y4S) initiative, developed by Abu Dhabi's Future Energy Company (Masdar). Through this, the company invests in enabling young people and developing their skills to lead the future of sustainability.
Last April, ten young climate activists from six different nationalities, alongside delegates from the United Arab Emirates, officially met at the Dubai Youth Hub as a significant manifestation of youth involvement in COP28, and in the climate action space in general.
These brilliant young delegates got engaged in extensive discussions on encouraging youth to be involved in the climate conversation, planning their roadmap of collaboration as they move towards COP28, and the 18th UN Climate Change Conference of Youth (COY18) through initiatives such as the Youth Climate Champion, and institutes like the Arab Youth Center and the Federal Youth Authority.
The UAE's Ministry of Culture and Youth launched the first UAE Youth Climate Delegates Program in March 2023. A program which aims to act as a hub for youth voices in climate action, to increase their awareness and leverage their energy to empower them to get more involved in leading the way towards achieving a better future for themselves and the world.
The UAE is actively involved in this youth empowerment model as part of its commitments towards climate action through the energy of youth.
COP28 inspires the youth in our society and business world to get more involved in combating climate change, and it will indeed represent a significant step forward on our path towards making our planet a sustainable habitat.
See you in Part 3 as we continue at Nfinity8, to empower the public with the essential climate knowledge.