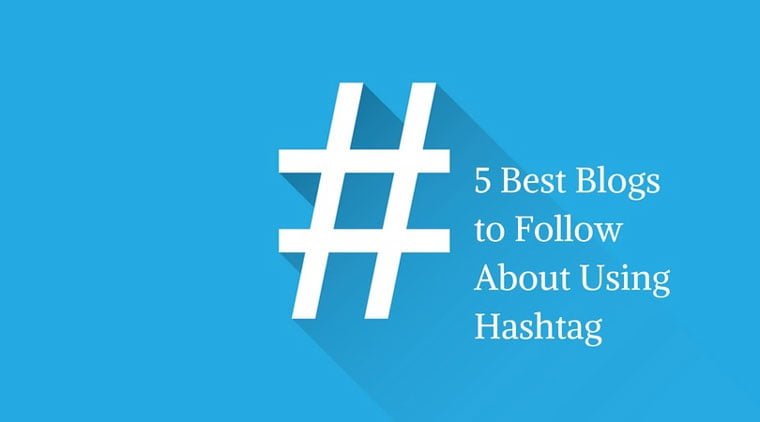 A #Hashtags on social media is basically (#) sign followed by a keyword. For example #nfinity8weekend #ilovecoffee are both hashtags. The purpose of using Hashtag is mainly to immediately expand your topic to all online audience and get a response. Best practices for journalists according to Forbes when individual use a hashtag within their tweet, engagement can increase as much as 100%; brands could get an increase of 50%. No wonder people are curious about placing hashtags in their post.
The question now is how to come up with the most relevant Hashtags, and how to use them the right way for your content. Firstly, you should know your purpose and why are you using it. Second is know your audience. Finding the right Hashtag might seem to be difficult as we want to take a look here at how your brand can use hashtags with success, on all social media platform.
Here is the list of best blogs to follow about using the hashtag:
1. How to Use Hashtags: How Many, Best Ones, and Where to Use Them – Buffer's blog
Kevan Lee shares that in finding the best hashtags for your content make sure you've got them in the right number, on the right social network.
Choosing the right hashtag tools will help you find, create, analyze, and track hashtags that matter to your brand. Also, makes it easier for you to achieve your goals.
Dhariana Lozano pointed out that "The easiest hashtag mistake to make is to only use popular hashtags." She even goes further saying that hashtags like #love and #beautiful have hundreds of thousands of posts, but these generic hashtags are going to be useless for your business. You'll get likes, but not from people who are actually interested in your business or brand.
It is actually right to choose a hashtag that is popular – but not too popular as the competition is high does your post will easily get lost and you will not get the best result you need. In practice seek hashtag that specifically targets the audience you need and should be related to your post.
As noted by The Social MS base 10k to 100k is usually a good number to target. Anything more, that hashtag is not going to work.
What I usually do is to check successful accounts related to my industry and see what hashtags the best work for them. It really helps me with my hashtag strategy.
According to Socialbakers data, more hashtags used on a Facebook result in less engagement, while using just one hashtag seems to be better than not using any at all. On the other hand, interactions on the Twitter rise when brands are in the sweet-spot of three to five hashtags.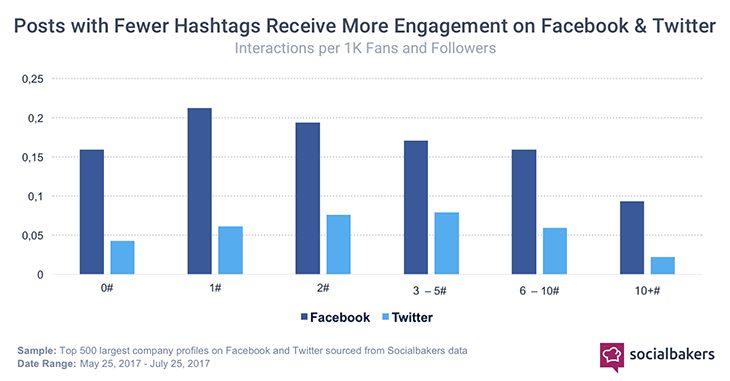 As what William Miller implies be careful about using #Too #Many #Hashtags. Using too many hashtags is generally considered bad form on personal profiles, it applies doubly for brands.  Make sure you test, research and rethink to come up with a great hashtag applies doubly for brands.
Studies show that using 11 hashtags per post generates the most engagement. Although using the limit of 30 is not a bad idea at all.
4. Tips from Postplanner
Don't put your #hashtag in the middle of the #sentence. That makes #reading the sentence #annoying. Instead, write out your whole post. At the bottom of the post, add the hashtags.
Hashtags, if used correctly, are a great tool to track conversations about brands, companies, or events. Monitor your top performing hashtags, share content related to them, and use the hashtag frequently.
Dominique Jackson says tracking social media activity is one of the biggest struggles companies have faced since the early stages of social media marketing. One study showed 39% of businesses don't measure their social media ROI due to a lack of analytics, resources or expertise.
Learning to use hashtag analytics will help you able to run organized campaigns.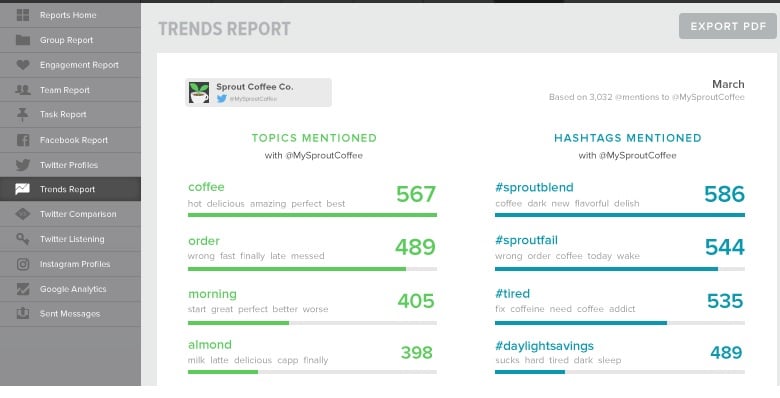 To sum it up you have to test and do your research to figure out what works best for your content. Do you want this post delivered right to your inbox? SIGN UP HERE.