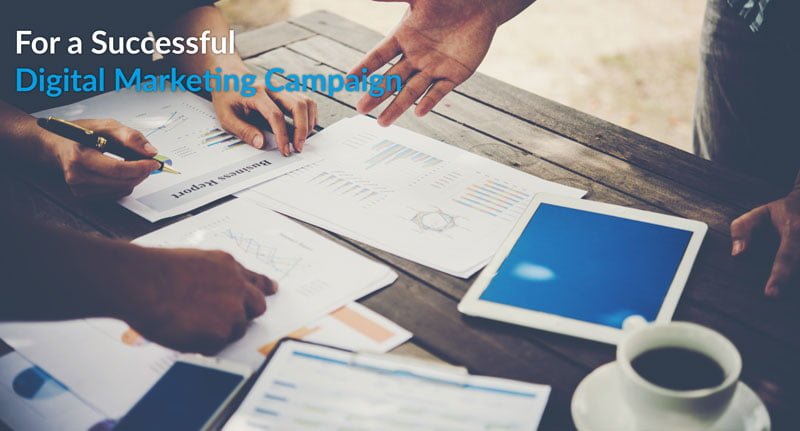 Are you looking to turn up your marketing strategy and planning to have a digital marketing campaign but not sure how to start? Ideally, every business has a marketing plan which outlines the marketing efforts, objectives and strategies for the year. A campaign is a part of the marketing plan. Designing a successful digital marketing campaign needs an understanding of your overall marketing plan and objectives, followed by strong planning and the right execution to reach your goal.
Here are a few important steps that you can follow and keep you on track while building the digital marketing campaign!
Know Your Goal
Planning and defining marketing goals and objectives is the most important step that can lead to the success or the failure of a campaign. Focus on the main reason why you want to run a digital marketing campaign. What is your marketing goal and objectives? What strategies will you use to meet this goal? Your marketing goal could be to create awareness about a new service, to have more followers on Instagram, building your brand name on social media or get more leads from email marketing but it should be supported by an effective strategy and measurable objectives that will lead to the achievement of this goal.
Fix Your Objectives
Once goals are defined, you need to think about the strategy that will achieve these goals while considering all the aspects of a campaign – from budget and audience to digital marketing channels and timelines. The very first component or outcome of a campaign strategy is an objective – a measurable step that gives direction to your marketing efforts. Your objectives must be "SMART" – Specific, Measurable, Achievable, Relevant and Time-specific. Once the goals and objectives are well understood, the next step is to choose effective KPIs (Key performance indicators) that precisely defines the criteria for the success of your campaigns. Measuring KPIs helps in determining if your campaign is going in the right direction and giving the desired results or you need to change your strategy.
Define the Target Market
Your work will be easy if you already have analytics to run and check who is just visiting your website and who is actually buying your products. If you are new, you need to do some research. Try to find a niche market that your competitors might have missed. The success of a marketing campaign depends on a well-defined audience who is more likely to benefit from your services or products. There are some other elements that you should consider – geographic, psychographic or demographic (gender, age, city, lifestyles etc.).
Select the Right Channels
There are several online marketing tools available and you might want to deliver your message across all of them. More is not always better here. What is best for your campaign will largely depend on the nature of your business, goals and the kind of customers you want to target. If you want to create more brand awareness, you can go for channels that promote visual content like Facebook, Instagram, Pinterest or YouTube. If the purpose of your campaign is to generate leads or sales, you can use SEO, Pay-Per-Click, Email marketing or display advertising. You might want to evaluate results and measure ROI to understand which marketing channels are giving the best results.
Fix Budget
Now when you have selected the marketing channels you wish to promote your campaign on, it is important to assess your budget as well. Be realistic about how much money can you spend rather than feeling overwhelmed and investing in resources or channels that are not bringing the best results. An assessment of the most cost-effective digital channels that brought you quality leads can help you segregate portions of the budget or decide which channels would you like to invest more.
Use Videos
A video is the best way to engage your audience and is an absolute must for the success of your digital marketing campaign. If you are not convinced, have a look at The State of Video Marketing in 2018. Incorporating a quality video to your marketing strategy with a call to action for viewers can contribute greatly to increase engagement, social shares and comments, thus higher return on investment.
Measure Results
Go back to your marketing objectives and measure the performance of your digital marketing campaign against the KPIs to determine if the campaign was successful or not. Suppose your marketing goal was to improve sales by 15% however there is an improvement of 4% only. You can make a decision to either repeat the same campaign or tweaking the strategy. Gather sufficient data for substantial analytics before making any decision. Not every data is actionable.
Wrap Up
While including the above steps in your campaign planning do not give an assurance of success but would lead to more probability of having a better ROI out of your campaign. Hope you find this information useful to get started with your marketing strategy and plan.
Do you need help with your Digital Marketing Campaign Strategy? SIGN UP HERE