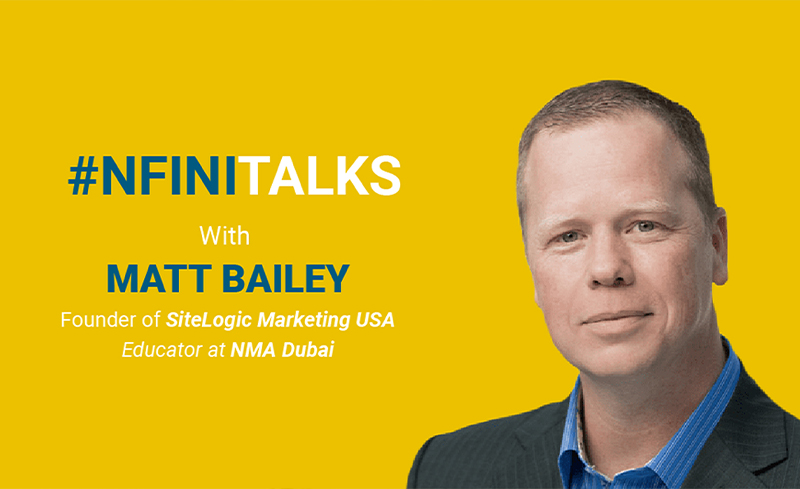 Content and data as Horses and Kings! ?
Email Marketing and digital marketing analysis! ?
You can learn more about all of these interesting topics during our first episode from the NFINITALKS series.
It was moderated by Yousef AbdelBary, where Matt Bailey, the social media expert, the founder of Site Logic in the USA, and an educator at the New Media Academy, in Dubai was a guest. ?
The episode opened with interesting questions that revolved around social media marketing, and how it has taken a huge part of our virtual space, where it is not only used to socialize with others but rather the right medium for digitally advertising your content and products.
But the most controversial debate is
Why does your content need to be data-driven? Who's the horse and who's the king? ?
Matt Bailey opened his discussion in this exciting episode by highlighting the importance of both data and content, as he says: "Sometimes content gets no engagement, and some may say content is king, but you need data to know which content is working for you, and which content is not working for you, and to analyse, WHY? What people like and don't like? because that will change how you will do the content"
In this brief set of statements, Matt Bailey was able to tease out the main points to answer this most frequently asked question.
And as an answer to the question about the latest Google and Apple privacy updates putting an end to users tracking and 3rd party data collection, he clearly announced that: "Losing the ability is not going to drastically change the AD market".
WAIT! Are you one of those people who thinks email marketing is dead?
Well, we're about to change your mind! ?
For Bailey, email marketing is one of the first and most effective marketing channels and a strategy that will help bloom your business. It "predates" all the other marketing channels ever existed, as it's a direct and one-on-one medium that will establish loyalty and customer engagement.
The episode came to an end with Matt Baily's differentiating between the US and the Middle East online behavior and marketing practices and listing some tips on the importance of digital marketing analysis in evaluating your business, audience and competitors to build a marketing plan for your company.
Click here to watch the full episode, and tell us what you think in a comment of our very first episode from the NFINITALKS series.